LEADERSHIP TEAM
Michele Coleman, Ph.D., LMFT,
Founder and CEO
Dr. Michele Coleman has worked in the field of foster care and adoption all her life, beginning with personal childhood experiences with informal foster care and formal adoption. These early experiences prepared her for work as a therapist in the field of attachment. As an adult, she has worked full-time as a business manager and has regularly volunteered with troubled youths who were living in group homes. As an adult, she adopted two sisters with emotional needs from the foster care system in Virginia, and then 14 years later she and her partner adopted a son with emotional needs from New Mexico.
At the age of 42, Dr. Coleman went back to school for her master's degree in Marriage and Family Therapy, at Virginia Polytechnic Institute and State University. Her thesis was titled A Chance for Change: The Role of Trust in Foster Care, and involved in-depth research on ways to help children who have been removed from their home — on ways to help them learn to heal, grow, and adapt to a new family. A graduate of Dr. Dan Siegel's Interpersonal Neurobiology certification program, Dr. Coleman used this knowledge to develop the model of treatment used for healing attachment issues at Attachment Healing Center, Healing in Resonance. Michele received her PhD in Counselor Education from the University of New Mexico in 2016.
Marisol Velasquez de West, LMSW
Clinical Manager
I am a second generation Mexican American whose family dreamed of a prosperous and secure future for their children. I graduated with a masters degree from New Mexico Highlands in Social Work. I come from a family who values perseverance, hard work and efficiency.
It is from these values I have come to understand their purpose which has served and helped me evolve into my own values of honesty, compassion, being in relationship and last but not least, I value a deep understanding of oneself through personal introspection and experience.
Through my life experiences of being a single mother to a married person with 3 three children, to working with the Children, Youth, and Families Department, being a Certified Nursing Assistant working with the elderly, a Massage Therapist and an Army Reserves Emergency Medical Technician, my values have grown and strengthened. I have several volunteer and internship experiences which contribute to my love for community and traditional healing.
I joined AHC after hearing experiences and witnessing families who had been healed through building and strengthening their attachment bonds. I feel the model at AHC resonates with my belief to work with the whole family system as a means to support the whole person. I believe in the ability of oneself to heal and how we can learn to be vulnerable and trust that those who have come before us, with our own personal spiritual essence and the Divine presence, are here to assist and guide us along our journey.
Terry Morris, Ph.D., LMHC
Dr. Terry Morris has been with the Attachment Healing Center for for a number of years as both a therapist and as part of the management team. He has dedicated most of his career to working with children and their families. He was an award winning inner-city teacher in Chicago and Dallas for 16 years before attaining his counseling degree from the University of New Mexico. He believes that through love, positive interactions, and looking for the good in each other, the world can be a better place for us and our children. Morris earned his PhD in May of 2017 in teacher education at the University of New Mexico and is interested in helping new teachers form close, positive relationships with their students and families. He spends part of his time presenting workshops to teacher groups on the importance of teachers in the lives of children.
ADMINISTRATIVE TEAM
Jane McCoy, Operations Supervisor
Jane McCoy came to the Attachment Healing Center in June 2011 with over 20 years of administrative experience in health and mental health administration. In 2011 Jane had recently relocated to the city of Albuquerque after retiring from Riverside County Department of Mental Health in southern California. Jane served the Department of Mental Health for thirteen years and retired as an Administrative Assistant for the Riverside County Mental Health Board. Through her career with the department, she developed many skills designed to serve those with mental health issues in the community. It is Jane's passion to continue to develop skills that assist individuals, couples, children and their families in seeking the treatment they need and deserve in order to lead productive and meaningful lives.

Bethany Aster, Billing Specialist/HR Assistant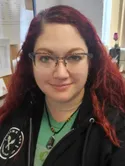 Bethany (she/her) joined the Attachment Healing Center team in January of 2020. She brings with her a wealth of administrative and customer service experience, having worked in sales, insurance claims processing, and a busy medical office. The wide variety of skills she has learned along the way come together in her position with AHC, navigating insurance verification, billing, payments and disputes, as well as human resources, payroll, and other administrative tasks to support the agency.

Cleo Cerno, Headstart Coordinator/Billing Assistant
Cleo Cerno received her master's degree in Marriage and Family Therapy from New Mexico State University, with a minor in Counseling and Educational Psychology, in May of 2002. During graduate school, Cerno was awarded the Commission on Higher Education Competitive Graduate Fellowship and worked as a Graduate Assistant where she assisted in teaching, advised undergraduate students, and performed various types of research related work. Cerno has always been very passionate about helping people. She feels her passion is fueled by the simple pleasure of knowing she made an impact on the lives of those she has the honor to serve. As a proud Native American woman, she feels her heritage has helped her fully embrace the true spiritual nature of the Attachment Healing Center model and looks forward to guiding parents and their children to build healthy, loving relationships for a long time to come.
Kaitlyn Chavez, Front Desk Reception/Office Assistant


Kaitlyn has been on the administrative team at Attachment Healing Center since June 2021. She has worked in various different places based in customer service. This made her a great fit for interacting with current and new clients. She enjoys connecting with the clients and those who call our agency, including making sure they are resourced with snacks and water, getting creative with various flyers, answering the phone, supporting our clinicians with supplies and games, among other tasks within AHC. In the picture is her very spoiled and loved dog, Maggie.
CLINICAL TEAM
Brittany Schmacker, LAMFT

Brittany Schmacker (she/her/they) is an experienced mental health professional who identifies as a queer woman of color. Brittany is a licensed Associate Family Therapist in the state of New Mexico. They are in their 2nd year at the University of New Mexico's Counselor Education doctoral program. Brittany has 12 years of experience working with diverse individuals, namely those of BIPOC (black, indigenous, people of color) children and families of low-income, interracial, separated, young, or divorced co-parenting couples, newly fostered children, families with children with disabilities, and LGBTQI+ families. She is particularly interested in teaching counselors in training, psychoeducation, self-care, and research in social emotional learning and attachment healing in children.






Carol Felley, LMHC
Carol Felley has long been drawn toward counseling, and completed her graduate work at Wayland University, earning the coveted Outstanding Graduate Student in Counseling Award along the way.
Finding that her own experiences with behaviorism, red tape agencies and non-heart based models didn't feel true or fit with her own beliefs, Felley decided to follow her heart and ended up on the doorstep of the Attachment Healing Center.
Her special talents include creatively connecting with children and parents, and an ability to find the metaphor in the behavior to see what is underneath it while connecting to it.
Jennifer Rex McNair, LMHC
Jenn is a Licensed Mental Health Counselor that received her Master of Arts Degree from New Mexico Highlands University in Clinical Mental Health & School Counseling. Jenn is trained in providing EMDR therapy services for clients. She has worked in multiple out-patient settings and has experience working with children, couples, adults, teens and families. Her goal is to customize the direction and focus of treatment to each client's individual needs. Jenn's mission is supporting people through their journey in learning new ways to ground themselves and cope with the suffering and various struggles that life brings to every human existence.
Jenn strives to provide a safe therapeutic environment for individuals for them to be able to feel heard, seen and understood for who they are without judgement. Jenn throughout her life has always felt a natural gravitation to supporting and helping others. She has found herself being fascinated by relationships her entire life. Jenn knew at a young age that no matter what she decided to do in life, that it would involve connecting with people & being a healer in some way. Jenn holds a deep passion in her heart for working with children & couples. Jenn brings to the team a lighthearted and positive nature. She believes that within anyone's personal work any progress is still progress & with one step at a time there is always a way back to the path of healing and growth.
Hannah Hyman, LMHC

Hannah was adopted from Saint Petersburg, Russia, in 1994, and while she spent many years of her life working with kids in school, camp, and home settings, settling on doing therapy with them and their families did not happen until much later. She got her majors in Psychology and Spanish, and minor in Applied Linguistics at Pennsylvania State University in 2013, and also studied Studio Arts throughout high school and college. She got her Masters in Art Therapy and Counseling from Southwestern College in Santa Fe in 2016, and spent time after that traveling and exploring her career interests before settling on coming back to the field of psychology. Gratefully, AHC feels like the perfect place to be, considering her personal experience of healing attachment wounds, and her education. In her free time, she likes to cook, polish stones on her lapidary and silversmith, and go out in nature.
Jessica Heintzleman, LMHC
My name is Jessica Heintzleman, LMHC. I graduated with my masters degree in clinical mental health from UNM in 2018. I came to the Attachment Healing Center because my previous experience in addictions showed me that childhood trauma is often at the root of the pain that leads people on a path that will often lead to more pain. As I continue to learn the "Healing in Resonance Model" I see how deeply our ability to connect in family is connected to our mental health and social relationships. Being able to help children and families heal their pain is a rewarding challenge that I am honored to participate in.
Kari Jacobs, LMSW
Kari Jacobs is a licensed master social worker (LMSW) who started at Attachment Healing Center as an intern in the fall of 2017. Kari attended New Mexico Highlands University for her master's in Social Work and graduated with her MSW in 2018. Kari was born and raised in Maryland where she graduated with a bachelor's in Psychology. Kari has always been passionate about helping people, learning more about psychology, and breaking stigmas of mental health services. As a child, Kari was interested in exploring her own feelings and decided to study psychology in college to understand more about herself and others. After exploring different jobs, such as working overnight on a crisis hotline and being a Behavioral Management Specialist, Kari recognized the need to support in a different and more encompassing way. Kari then went into social work with the desire to learn more about systems and became interested in addressing attachment, working with the whole family, and using relationship to help address real healing and empowerment. Kari enjoys incorporating games, art, and other activities into therapy to assist with healing, trauma, and connection.
Mary Beth Harwood, LMHC
Mary Beth started as an intern at the Attachment Healing Center and has been with the agency since the Fall of 2017. She graduated with her counseling degree at the University of New Mexico in Mental Health Counseling Spring 2017. Mary Beth really enjoys working with adolescents and couples, and has always been fascinated with the relationships between people. She believes strongly in the connection between people and how healing that connection can be. Mary Beth was drawn to attachment work without even realizing it, when writing and researching about attachment theory in her college thesis paper. She has seen the power of attachments between people and how much it can affect people through their lifetime and throughout all of their relationships. Mary Beth feels drawn to help heal people's attachments so they can feel empowered and confident in who they are. Mary Beth is also currently working on developing her skills with trauma counseling and sand tray therapy to help clients when their trauma arises.
Paul Bugyi, LMSW
I am originally from Buffalo, NY, and spent many years living on Long Island teaching Sociology at various colleges there. In 2014, I received my Ph.D. in Sociology from Stony Brook University, conducting research on the links between childhood family experiences and chronic illness. In my research, I realized that early childhood trauma made chronic illness extremely difficult for these individuals, and I wanted to use my expertise to provide support to this population. In 2018 I moved to New Mexico to pursue my Masters in Social Work at New Mexico State University, and received my degree in 2020. I interned at Attachment Healing Center for the 2019-2020 year and loved my experience here so much that I decided to stay and be a clinician. I like gaming, reading, and making pottery. I love the food, landscape and people here in New Mexico.



Philip Casady, LMSW
Hello! My name is Philip Casady, and I usually go by Phil. I was born and raised in Los Angeles, CA and started my journey in New Mexico at UNM where I received my Bachelor of Arts degree in English with a concentration in creative writing. After I graduated from UNM, I worked within education field as a math interventionist/educational assistant. Throughout my time in education, I noticed an increasing importance within the connections and relationships shared with students, parents, teachers, and the community. I observed through positive relationship and positive connection, my students succeeded and were able to carry positive relationship throughout their student careers. My direction in life changed when I began to see how powerful relationship and connection can be for others. I decided to go back to school for a Master of Social Work degree in order to expand my horizons on how to help others in other ways. I discovered through my masters program at New Mexico Highlands University, a multitude of approaches and ways to support others through difficult times. I had my first job at another agency, but I felt I could be doing more to support families in need, and decided to seek further opportunities to help provide positive relationships and connections in families and in the community. I found myself at the Attachment Healing Center and I felt connected to the model and approach in more ways than one. I am a positive person with calm attitude, who enjoys seeking out the goodness around us and having fun doing so. I also thoroughly enjoy cultivating and scanning for positives within others and working with families to bring out strengths and empowerment in connection.
Aaron Bower, LPCC
Evan Hughes, LMHC
James (JP) Turpen, LPCC
Kourtney Wilson, LMHC
Nadia Bedard, LMSW
Nathan Lyons, LMSW
Rebecca Maestas, LMSW
Teil Plont, LMSW
Younhee Burningham, LMSW
ADDITIONAL RESOURCE TEAM
Chastity LeBlanc, CFPSW, CSW

Chasity is a certified family parent peer support specialist and community support worker, and serves our agency as our Director of Family Engagement. She works with families encouraging them in the model of the Attachment Healing Center, bringing her lived experienced in raising two children with attachment issues with her. She also works alongside of families advocating for them in schools, Juvenile Justice, and CPS. Chasity can help you acquire services for additional therapies such as ABA, early intervention, speech and language development.
Susan Brower, CFPSW
Alisa Moortgat, CSW
Marcus Speer, Jr. Peer Support

Proudly serving Bernalillo County, Sandoval County, Valencia County, and the East Mountains. Our HeadStart program is offered in Valencia County. We train and support the Jicarilla Apache Nation in Dulce.